Meet The Designers w/ Not For You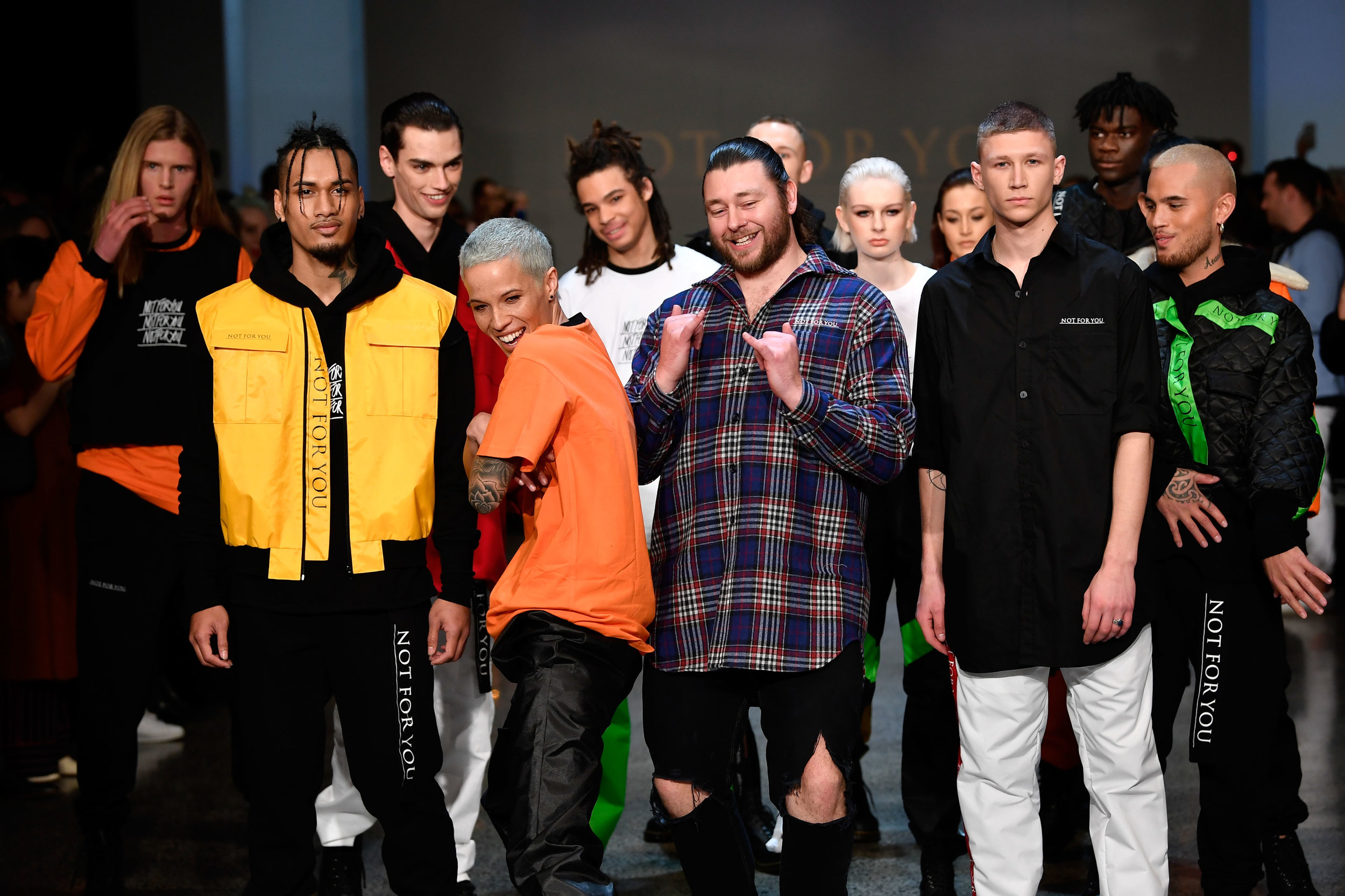 What's your brand story?
Jerome Taylor, the head designer of Not For You (NFU) graduated from NZ Fashion Tech in 2015, launching the brand through the Graduate Show at New Zealand Fashion Week (NZFW). A combination of hard work, big dreams and support from customers who had finally found a brand they would wear head to toe, propelled NFU into the international industry, showcasing with Apparrel Magazine and Vancouver Fashion Week 2018, a solo NZFW show in 2018, then to China Fashion Week in 2019.
NFU is the only label to take part in New Zealand Fashion Week starting from their graduate show right through to showcasing on the main stage. We have showcased consecutively for the past 3 years and we are so eager to take the main stage and show everyone just how far we have come. We will always keep pushing and thriving to be the best label we can, our vision is clear and we won't stop until we achieve it.
Not For You was created by Jerome Taylor to bring his singular streetwear vision to the world. Jerome's goal is to excite the senses with unique designs, high-end construction techniques and a true hand-made aesthetic, applied to streetwear that steps out from the ordinary. Not For You is currently retailed online @ notforyouclothing.com and a brick and mortar store on Manners Street in Wellington. Not For You will also be holding a popup shop at St Kevin's arcade during the week of NZFW 2019.
What can we expect from your show this year?
You can expect the best collection to date! This collection will be our most diverse and the most womenswear pieces we have ever shown. You can expect to see the silhouettes you all love alongside new designs which evoke a new feeling.
My colleagues have described this collection as inspiring and daring, yet relatable and personal, leaving the crowd with the motivation to take the leap to do the thing they love, whether it be fashion, or their own dreams in life. We are calling this show "The 5 Year Plan".
What has inspired the collection you'll be showing at NZFW 2019?
5 years ago, I wrote down 50 goals which I wanted to achieve in the next 10 years. After a recent shift in career from roofing to fashion, I wanted to dream big and take some risks which I set out in this 10 year plan. Some called me crazy, but I believe you have to take risks in order to achieve great things and you don't know until you try. If I hadn't have made all these big plans I would probably still be spending my days roofing, feeling miserable about my life but here I am today, completely transformed and I want others to know that it's possible and so worth it. I want to celebrate this and show people that you can achieve anything you put your mind to.
I believe the name "5 Year Plan" encapsulates exactly what the collection is about – but we'll keep the rest quiet until after the show.
How does this year's Fashion Week theme 'Sustainability' resonate with your brand and your collection?
I think this resonates with our brand in so many ways, we take this very seriously. We source all of our fabrics locally in Wellington City, we also source our haberdashery locally. Alongside this all of our garments are made right here in Wellington in our Shop on Manners Street. We try and shorten the production thread and ensure we are across all of our production from start to finish.
What's your favourite story/show/moment/feeling from New Zealand Fashion Week?
Every year I could talk about the show in so much detail about how amazing the different experiences have been. But I think my favourite show has to be last year, it was my biggest show to date as it was my very first solo show. I wasn't aware on how time precious the event would be and everything that it entails so this was by far my biggest success and my one of my best achievements to date.
Tell us your favourite leverage or connection to come from your participation in New Zealand Fashion Week?
I have showcased with NZFW for the past 3 years and it has helped me grow strength to strength. I have been able to build long standing connections in the fashion industry and my brand profile has had amazing exposure through showcasing consistently with NZFW.
What was your motivation behind wanting to take part in New Zealand Fashion Week? E.g. Creating content, hosting partners and customers, getting in front of the media, selling and talking to international and national markets, building your brand profile, growing your customer base etc.
As soon as I started my career in fashion I knew I wanted to be a part of NZFW. It is a platform for designers to not only showcase but to also grow in the industry itself. The fashion industry can be daunting but with NZFW it allowed me to flourish as a designer and a creative. It has opened so many doors for my brand that I couldn't have imagined!
New Zealand Fashion Week is the one time of the year the industry comes together to celebrate and showcase our countries design talent on such a large scale. Why is New Zealand Fashion Week so important for designers and the industry as a whole?
I think it is simply stated in the question itself, it's the largest platform for designers to showcase their creations.